Some of you are wondering how I'm able to fit a full Mass kit, vestments and all, into such small bike bags and have any room left over for necessary things such as clothing and a spare tire. It took a bit of doing, but I've managed to fit everything needed for the Holy Mass into a space no larger than 3" x 3" x 2".

This photo was taken after Mass this morning in Mazama, Washington. The silver chalice comes from a sick call set given by an old friend and is slightly over 2" in height, the patin is equally tiny at about an inch in diameter. The altar crucifix is is taken from a rosary given by my mother before her death.

The vestments you see draped over a chair represented the greatest challenge because those you see in church are almost always so bulky that a single set would fill my entire pack. The solution? I made my own. They're constructed of the same nylon used for ultralight tents and sleeping bags, weigh a fraction of an ounce and fold down into almost nothing. I'd never use them in church but for the purposes of saving space the alb, stole and chasuble are perfect.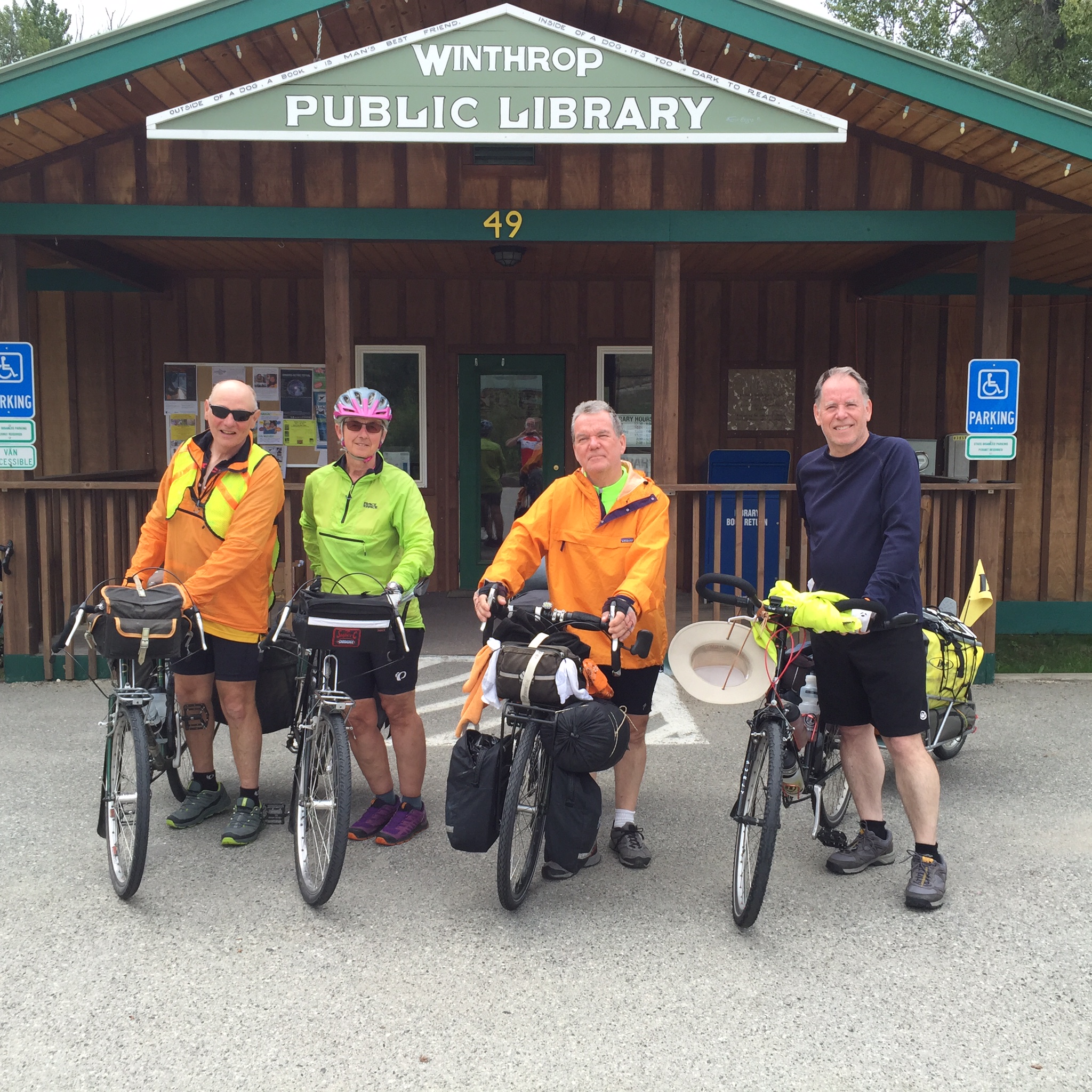 I met each of these cross country cyclists on the long climb up Rainy Pass. We introduced ourselves and encouraged each other during the seemingly endless climb. Seeing them gathered in Winthrop the next morning, I stopped to talk. It doesn't take long to realize that a special bond develops among those on the road.
Going up Rainy Pass, one of the bike bearings began to make a grinding noise that repeated with alarming regularity with every pedal stroke. It doesn't take long at all for a bad bearing to bring a trip to a "grinding" halt. Trying not to worry, I put the situation into the good Lord's hands. The next morning I heard from a fellow traveler about a great bike shop not far down the road in the Town of Winthrop. Dave at Methow Cycles had the parts and quickly got me back on the road. In this photo he's giving my bike back to me all ready for the many miles to come. Thank you, Dave!